Gateway Gallery opens 2018 with an exhibit by Julius Legaspi
583 total views, 1 views today
Gateway Gallery opens 2018 with an exhibit by Julius Legaspi who will present new pastel paintings in his fourth solo show, Paghirang. Paghirang will have its Artist Reception on January 6, 2018, 6 pm at the Small Room of Gateway Gallery.
In this solo show, Legaspi will again demonstrate his mastery of the pastel medium. His talent in rendering forms and tones in pastel is matched by his ability to evoke moods in his landscape, still life or genre paintings. He is a prolific artist whose artworks can be found in various art collections.
Julius Legaspi, who hails from Bulacan, is a well-rounded artist whose time is not limited to visual art making. He is also a generous teacher, sharing his knowledge by conducting art workshops. He is also a mentor as he guides the members of the Philippine Pastel Artists to become better image-makers. He currently sits as president of Philippine Pastel Artists. He is also a member of the Philippine Art Educators' Association which updates him with regards to art education.
Legaspi, who graduated from the UP College of Fine Arts, was a follower of conceptual artist Roberto Chabet. This makes it easy for him to create abstract pieces. He is however known for his soulful still life and evocative landscapes, images that only a perceptive artist can see. He also dabbles in music as a song writer and lead guitarist.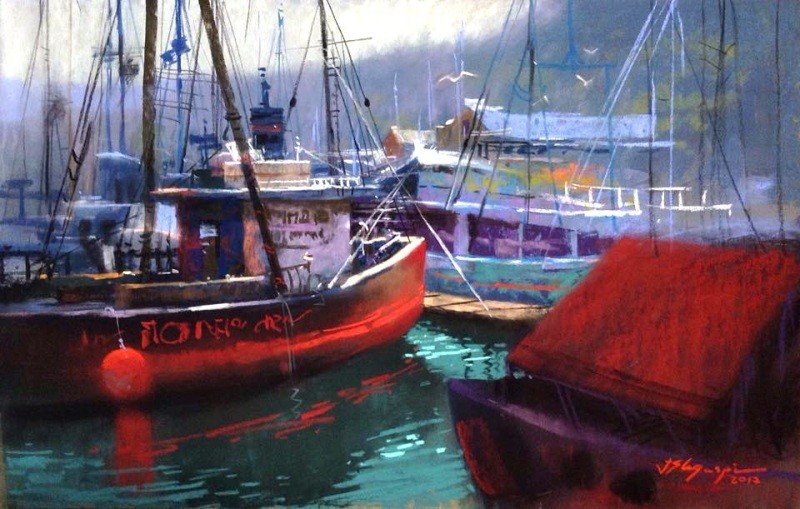 Paghirang will be open for viewing to the public on January 7 and will run until January 20, 2018. Parts of the proceeds of the exhibit will go to Remote Area Medical Philippines to support is medical missions.
Gateway Gallery is open daily, from Monday to Sunday, 10 am to 7 pm. It is located at the 5F Gateway Tower, Araneta Center, Quezon City. Gateway Tower is the building in front of Kia Theatre. It is the art museum of Araneta Center and is run by the J. Amado Araneta Foundation. For details on the exhibit, please contact jslegaspi.ppa@gmail.com, gatewaygallery@aranetagroup.com or the number 09451143358.