Boyega escapes Atlanta snow, makes 'Last Jedi' premiere
544 total views, 2 views today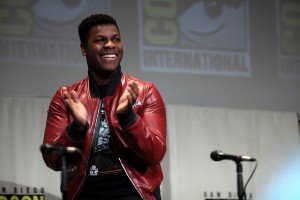 After tweeting that snow in Atlanta might keep him from making the "Star Wars: The Last Jedi" premiere in Los Angeles, actor John Boyega made it to the red carpet Saturday — and no starship was required.

Boyega started the day by tweeting from Atlanta: "Looks like no one's leaving!" and "I actually NEED a pilot." A snow storm led to hundreds of cancellations at Atlanta's Hartsfield-Jackson International Airport.
His publicist told The Associated Press that his flight was able to leave Saturday morning, and Boyega calmed fans after his arrival with an update, saying he'd safely landed but his luggage didn't make it.
Boyega arrived on the red carpet, wearing a dark blue tuxedo and turtleneck.
Boyega's earlier tweets prompted a flurry of Star Wars jokes and memes online, including one from a fan who suggested Harrison Ford fly him to the premiere. Ford, a licensed pilot, co-starred with Boyega in 2015's "Star Wars: The Force Awakens."
The British actor plays Finn, a former Stormtrooper who escapes the First Order to join the Resistance, in the latest installment the latest installment in the Star Wars franchise.