Pacquiao finally realizes the dirty game of politics, will he quit?
680 total views, 2 views today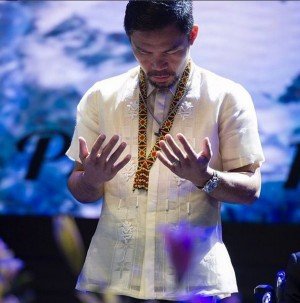 As a boxer, there is no doubt Manny Pacquiao has cemented his place in the boxing annals. He is an eight-time division champion and has garnered fame and fortune inside the ring.

Unfortunately, the Filipino boxing icon entered politics with the hope of expanding his reach in helping the less fortunate. Now a senator, Pacquiao is believed to be aiming for the top seat – the country's presidency in 2022. His ambition has been criticized with most believing he may be pushing his luck a bit too far.
With this shift in focus, the sport which helped him to fame has taken a back seat. His last fight was against Jeff Horn where he lost. To this day, most believe it was a wrongfully officiated match and a rematch would be the best way to prove that. Unfortunately, an impasse between the two camps is in play, delaying the rematch possibly to 2018.
Pacquiao will be turning 39 this December, another year older which raises some concern. That includes his ability to keep abreast with young fighters like Horn.
Pac-Man showed he still had the same power and speed. Unfortunately, his focus on matches has been questioned – most believing he has too much on his plate. Aside from being a senator, he also tried being a professional basketball player and entertainer. He recently planned to put up a basketball league of his own but recent reports say that even that has gone down the drain.
A couple of days ago, the Philippine Star reported Pacquiao as allegedly fed up with politics. He discovered the people are not actually sincere which have inadvertently led him to be dismayed and discouraged.
It took him years to realize these things tied up to politics. From the start, these were given factors – regardless of what position one takes. It is a dirty game and Pacquiao could do himself a big favor by actually stepping down and helping his countrymen in some other capacity.
Individually, Pacquiao is doing himself a big favor as well. He could focus on boxing and fight until he can. If not, he could try and support boxing in the Philippines or athletes who would need guidance. The thing here is that he doesn't need to be in politics to help people in need. In the end, he could be doing himself a big favor and spare his legacy from being tarnished with the dirty game of politics.