Ex-Trump aide Flynn probed
489 total views, 3 views today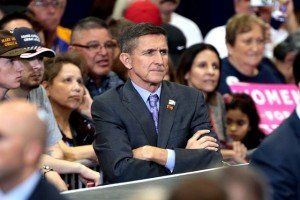 Investigators are probing whether former White House national security advisor Michael Flynn discussed expelling a Turkish dissident back to his country in exchange for millions of dollars, US media reported Friday.

Special prosecutor Robert Mueller is examining a meeting Flynn had with senior Turkish officials weeks after Donald Trump won the presidential race last year, NBC News and the Wall Street Journal reported.
The meeting allegedly discussed a secret payout of up to $15 million dollars if, once in office, Flynn would engineer the deportation to Turkey of Fethullah Gulen, a political rival to President Recep Tayyip Erdogan, as well as help free Erdogan-linked Iranian-Turkish businessman Reza Zarrab from prison.
NBC and the Journal both cited multiple people familiar with the probe by Mueller, who is leading the investigation into whether members of Trump's campaign colluded with Russian meddling in the election.
According to the sources, Mueller recently interviewed witnesses over the December 2016 meeting between the Turkish officials and Flynn at the swanky 21 Club in New York City.
"Under the alleged proposal, Mr. Flynn and his son, Michael Flynn Jr, were to be paid as much as $15 million for delivering Fethullah Gulen to the Turkish government, according to people with knowledge of discussions Mr. Flynn had with Turkish representatives," the Journal said.
The Journal said it is not clear how far the proposal went and that there was no sign that any payments were made.
Lawyers for Flynn labeled the allegations "outrageous" and "false".
According to the two reports, the discussions included details of how Gulen, a Muslim cleric who lives in Pennsylvania and has a large Turkish following, could be flown secretly by private jet to the isolated Turkish prison island of Imrali.
NBC reported that the Turkish officials also wanted Flynn to engineer the release of Zarrab, who was arrested in Miami in March 2016 on charges of helping Iran skirt US sanctions.
Zarrab is being held without bail and faces up to 30 years in prison if found guilty of sanctions violations and money laundering charges.
While his investigation is focused on Russian meddling, Mueller has a broad mandate and has honed in on Flynn's activities as Trump's lead national security advisor.
Those include frequent contacts with Russia's then-ambassador to Washington, Sergei Kislyak, and his alleged acceptance of payments before and after the election to lobby for Turkey.
Flynn, a retired lieutenant general who was previously head of the Defense Intelligence Agency, became the White House national security advisor after Trump took office on January 20, 2017.
But he was forced to resign three weeks later over his Russia contacts. (AFP)