Filipina wins at International Writing contest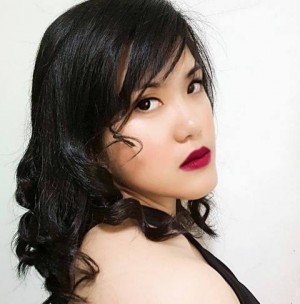 Vida Cruz, a resident of Manila, has been officially announced as a winner in the Writers of the Future Contest. The contest, one of the most prestigious writing competitions, is in its 34th year and is judged by some of the premier names in speculative fiction.

Ms. Cruz' winning short story has earned her a cash prize, a trip to Hollywood for a week long intensive workshop, a gala awards ceremony which draws in excess of one thousand attendees as well as a shot at winning the Golden Pen Award and $5,000 cash prize. Her story will be published in the annual bestseller, L. Ron Hubbard Presents Writers of the Future Volume 34.
Vida Cruz lives in a stunningly woodsy village by a dam in Manila, Philippines with her parents, sister, and six memeable dogs. Formerly a journalist, she now writes children's storybooks that teach Chinese kids English for a living.
Due to a combination of a strict upbringing, an all-girls' Catholic school, and a weak immune system, Vida decided to liven up her life—and she turned to Harry Potter, Lord of the Rings, fairy tales, and romances to do just that. Of course, a steady diet of books and cartoons will eventually compel the dieter to write and draw them, which is exactly what happened. But it wasn't enough.
Deciding that words were her calling, she worked hard for fellowships to two national workshops and a scholarship to the Clarion Writers Workshop in San Diego. All of these enabled her to travel and discover what a beautiful place the world is.
Ironically, traveling also helped her become interested in Philippine history, culture, and mythology. All these inform her fiction, which can be found in Expanded Horizons, Lontar: The Journal of Southeast Asian Speculative Fiction, and the Philippine Speculative Fiction anthologies.
The Writers of the Future Contest judges include, Tim Powers, author of On Stranger Tides, Kevin J. Anderson and Brian Herbert, Dune, Robert J. Sawyer Flash Forward, Robert Silverberg, Sailing to Byzantium, Larry Niven and Jerry Pournelle, A Mote in God's Eye, Orson Scott Card, Ender's Game, and Nnedi Okorafor, Who Fears Death, to name a few.
Following the 1982 release of his internationally acclaimed bestselling science fiction novel, Battlefield Earth, written in celebration of 50 years as a professional writer, and recently released in as a bestselling 21st Century trade paperback and audiobook, L. Ron Hubbard created The Writers of the Future writing contest (www.writersofthefuture.com) in 1983 to provide a means for aspiring writers of speculative fiction to get that much-needed break. Due to the success of the Writing Contest, the companion Illustrators of the Future Contest was created in 1988.
The intensive mentoring process has proven very successful. The 392 past winners of the Writing Contest have published 838 novels and nearly 4,000 short stories. They have produced 27 New York Times bestsellers and their works have sold over 50 million copies.
The 322 past winners of the Illustrating Contest have produced over 4,500 illustrations, 356 comic books, graced 594 books and albums with their art and visually contributed to 36 TV shows and 46 major movies.
The Writers of the Future Award is the genre's most prestigious award of its kind and has now become the largest, most successful and demonstrably most influential vehicle for budding creative talent in the world of contemporary fiction.
Since inception, the Writers and Illustrators of the Future contests have produced 33 anthology volumes and awarded nearly a cumulative $1,000,000 in cash prizes and royalties.
Hundreds of winners have had successful writing careers following their win and publication in the anthology, and to date has launched the careers of 12 New York Times best selling authors including:
Jo Beverley, Tobias S. Buckell, Nancy Farmer, Eric Flint, Karen Joy Fowler, Tim Myers, Patrick Rothfuss, Lisa Smedmen, Dean Wesley Smith, Elizabeth Wein, Sean Williams, and Dave Wolverton aka David Farland.