Tag Archives:
Cheryl Blossom
The world's largest cartoon museum has announced the acquisition of dozens of complete original Archie Comics stories.
"Riverdale" season 2 episode 6 titled "Death Proof" kicked off with Betty Cooper (Lili Reinhart) rushing to the hotel room of the St. Clairs. Picking up from the episode 5 ending ("When a Stranger Calls"), Betty dropped the name of Nick St. Clair (Graham Phillips) as the next victim of the Black Hood.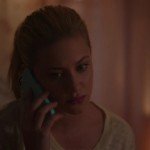 When Chapter 18 of "Riverdale" got underway, the show picked up from the scene where Betty Cooper (Lili Reinhart) was talking to the Black Hood on the phone. It turns out that the two of them share a common goal – that of which is to set "Riverdale" on a righteous path.